Alright, we'll say it, Madison is one of the coolest cities there is – and we are blessed to be based in a city with so many wedding venue opportunities. Whether your style is industrial, boho, modern, or rustic, there is no doubt you'll find your perfect venue here. While this list doesn't even begin to touch all of the uniqueness this city offers, we are starting off with showcasing our favorite MODERN wedding venues (and we won't even lie – modern has our heart!).
The Tinsmith
This industrial greenhouse is nothing short of dreamy. I still remember the first time I stepped foot into their four-season solarium and it quite literally took my breath away. Beyond the plant-filled solarium, the space opens up to an industrial reception floor and loft featuring a modern glam bar. Between their main hall, front hall, and solarium, the space can accommodate up to 275 for your seated dinner. The Tinsmith includes a mobile bar, lounge furniture, a stunning getting ready suite, and so much more. Not to mention, their private patio is the perfect place for your first look – if that's your thing (wink). If you are looking for a space that makes a statement in and of itself – The Tinsmith is your place.
The Eloise
It's safe to say we were so excited when The Eloise first opened their doors a couple of years ago, hoping that one of our future clients would lead us there. Located in the charming town of Mount Horeb, The Eloise is perfect for any elegant, modern wedding. The combination of their subtle white walls, stunning gold chandeliers, and sleek black tile bar gives you the perfect blank canvas to execute any wedding day design. Not only does the venue have an indoor lofted ceremony space, but their grand reception hall also seats up to 250 people including a dance floor. They also have a beautiful outdoor ceremony location (if weather is cooperative). One of our favorite parts of the space is the wall of grand windows that looks over the lush setting The Eloise sits on. This venue is the definition of endless possibilities!
And last but not least, the owners, Ben and Stacey are just the absolute sweetest people!
Ellsworth Block
If you are a couple wanting to give your guests a taste of what Madison is all about, there is no better place than right on the Capital Square at Ellsworth Block. This restored historical beauty sits right in the heart of it all, overlooking the beautiful views of the Capital. The building stands in its original architecture from 1871, featuring exposed brick and a full-ceiling skylight above the Atrium/Skydeck – and let us tell you, this skylight is stunning.
Holding up to 200 guests, you can customize your layout in many different ways for your guests. This would be a great wedding venue for someone that doesn't just want the traditional sit-down dinner. Being right next to the Madison Farmer's Market, pick out fresh local flowers and treats to add to your perfect day!
Garver Feed Mill
The exposed brick and historic windows of Garver Feed Mill truly make this space like no other. Built in 1906, this renovated building stands to honor and preserve Madison's agricultural and industrial history. Now home to many local food and wellness businesses, the space also serves as a venue for large and small weddings. Unique to this venue, they offer in-house catering and a full-serivce bar for any event. Garver's large, open atrium seats up to 400 people with additional options to add on their intimate gathering space and private lounge. We love this space for any large, industrial themed wedding!
The Lageret
What's not to love about a historic venue? Seriously, this venue has one of the most unique backgrounds in the Madison area. The Lageret is a restored tobacco warehouse originally built in 1885. Through many years and many uses, the building now stands as a venue and salute to the heritage of the tobacco industry in Stoughton. Seating 250, The Lagaret features wood beams, exposed brick, and hardwood floors giving you an authentic industrial warehouse feel. Between the ceremony and reception space, patio and porch, and client getting ready suites – you have plenty of room for all your wedding day events. This venue is the perfect spot to fulfill your industrial wedding dreams.
Palestrina Event Center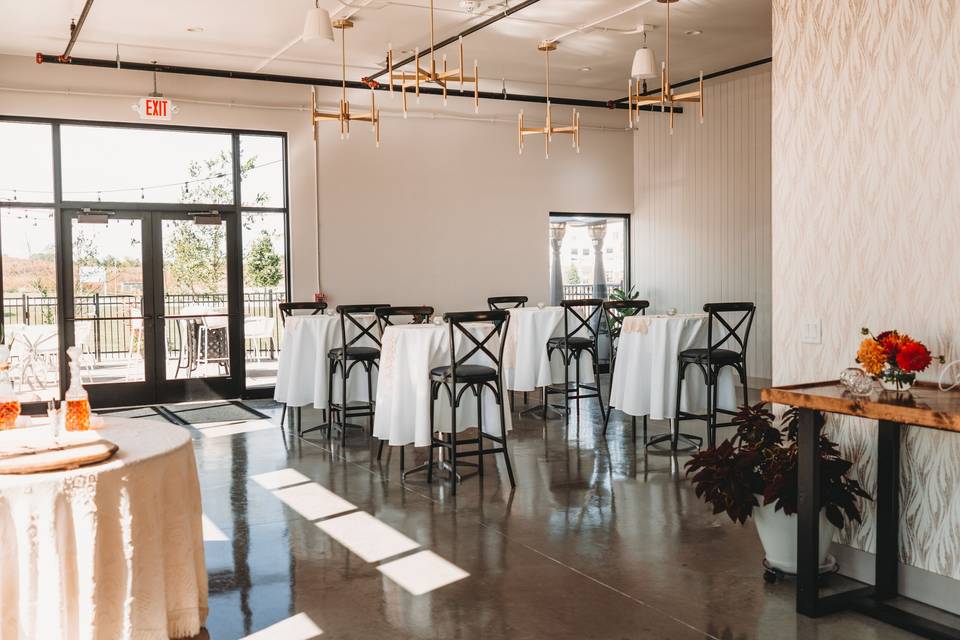 Palestrina Event Center is our newest venue in the area located in Verona, just 20 minutes from downtown Madison. We recently had the opportunity to tour this space and we fell in love! Palestrina is the perfect combination of mid-modern and industrial while also giving you plenty of room to use your creativity. This venue features a mobile bar, outdoor patio, lounge, and fireplace – not to mention we LOVE the layout of this space and the opportunities it gives any event. Holding up to 180 guests, this venue is perfect for your mid-sized wedding. We can't wait for weddings here in the future!
There you have it, our roundup of our favorite modern venues in and near Madison, WI! Let us know what you think and if you ended up booking at any of these places! 🙂