The very first vendor we always suggest hiring (other than a wedding planner of course!) is your venue. Having your venue is the first crucial step for all your other vendors falling into place.
Without a venue, you won't know your guest count, date, or location, and it sets the tone for your budget moving forward. With it being such a big decision, we understand how hard choosing the perfect venue can be – here are our 7 tips for making the best decision for YOU in your venue search:
1. Prepare your guest list and budget
This must happen FIRST before you get emotionally attached. In some ways, it's like home buying. Make a list of what you MUST have, what would be NICE to have, and what you are flexible on and rank. Once you know your guest list, you will know how big of a space you need to be looking for and if it is within budget.
A lot of couples assume they can fit more people in a space than they realize, but you also have to consider things that will take up your venue space: DJ table, food tables, cards/gifts tables, displays, etc. Factor this in when looking for a venue that can accommodate both your guest list and your budget.
Although it's normal to spend about 40-50% of your total budget on the reception, you can also become "venue poor" and spend way too much on a venue and have to cut back on other areas. As long as you are prioritizing your must haves, the venue search will become a little less daunting when you consider the full picture of what you want your wedding day to be.
Lastly, come in with a few dates in mind so that you have the ability to be flexible, especially if your potential venue is a hot commodity. Are you open to Fridays or Sundays? If not, having a more general "any Saturday in September" will rule more in your favor than rule you out if you are absolutely set on date.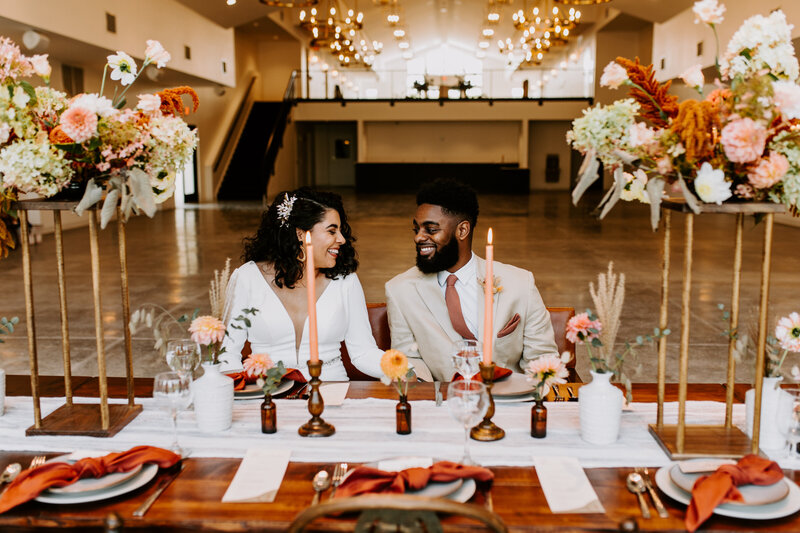 Venue: The Eloise. Photo: Megan Menchaca Photography
2. Amenities
Amenities are a cost that can easily sneak up on you. Be sure to check out everything the venue offers in their wedding day packages. Do they have chairs? Tables? Bartenders? One venue may cost more, but include all of the amenities you need. Try doing a cost comparison between venues that offer your desired amenities vs. the ones that don't!
Hidden fees can also surprise you, so be sure to ask upfront about additional service charges if your venue requires you to book their bartending service, and be sure to include that in your overall budget!
3. Preferred Vendors List or Vendor Flexibility?
Many venues have a list of their favorite vendors, but some only allow you to book certain ones. This is important to consider especially if you have a certain vendor you HAVE to have but isn't on their list. If that's the case – make sure to ask if the venue would be accommodating to you and your desired vendor!
Sometimes venues have a preferred vendor list but not required. This distinction is important. Be sure to ask your venue coordinator about the flexibility on their vendor list. One perk to having a preferred vendors list is it really cuts out the time you need to research other vendors, and the vendors are familiar with the venue. However, any wedding professional should be willing and able to do their due diligence to make sure they're prepared and approved with your venue – yes, even if they've never done a wedding at your venue before!
Venues are not trying to be difficult with preferred vendors list, but the reality is that venues have a TON of liability and so much can go wrong when you have big crowds and a lot of alcohol. Additionally, venues could be downtown or have specific guidelines, more complex setups or not enough staffing to accommodate any wedding, so it is important that you hire professionals.
We suggest hiring a wedding planner before you book a venue. Wedding planners are able to see the entire flow of the day and can anticipate the costs that are required to pull off the wedding you're envisioning in any venue.

The Eloise in Mount Horeb, WI – Maison Meredith Photography
4. Your overall vision!
Next is our favorite part – executing the design of your dreams! Does the venue align with your style? Some venues have a clear style, but some may have more of a blank canvas. If so, remember the possibilities are endless. With the right team of people you can transform even a backyard into the venue you have always dreamed of.
Sometimes we hear from our clients that a venue that is too much of a blank slate can be overwhelming (so much potential but also so hard to hone in on a vision). But if you have a distinct venue with unique features, loads of character, and a beautiful outdoor setting, that means you really don't have to spend much on decor.
Know your strengths. If you're not that design savvy, it makes sense to hire or enlist someone who is OR if you happen to be design-savvy, the blank slate venue is probably super fun for you! Regardless, your venue really impacts your overall vision and design, so choose wisely!
5. Location, location, location!
Consider parking and accessibility for your guests, ease to get there, lodging and things to do nearby, etc. Factor in if your venue location will require additional planning. The last thing you want to deal with is the stress of extra planning on top of the event itself (trust us)!
We are also BIG fans of having a venue that has both the ceremony and reception in one place. For obvious reasons – for ease and flow of your day, easy to get your guests to the next thing, and you get more bang for your buck. Not having to drive 30 minutes in between means you can save on guest transportation and means you have a captive audience (less reason to worry about people being late or important/VIP people going astray).
Venue: The Tinsmith; Photo: Ali Lockery Photography
6. Functionality
How functional is the space? Are you able to have rehearsal there the day before? Can they store furniture items that won't be in use? Do they have staff willing to help set up and tear down the day of? These items are all KEY to creating a seamless wedding weekend.
Don't necessarily rule a venue out if they don't check all the boxes, BUT the more modern amenities your venue has, the easier everything really will be.
7. Reach for the sky!
Not finding what you're looking for? For the SUPER creative and person willing to put in the work of building your own venue – it is totally possible. Backyard? Airport hangar? Park? These venues are the most customizable but in no way is it simpler. Building your own venue requires bringing in all of the amenities that a venue could already offer.
We loooove private residence and unique venues but as professionals, we admit that these are BY FAR the most work. Some couples do think that they will end up saving money, but that's actually not always the case when YOU are not the venue. It sure is not for the faint of heart, but if you're willing and have the financial means, the possibilities really are endless!
If that's just a little too overwhelming, you can also look at these places: Anywhere with a garden, community centers and breweries and restaurants.
Private residence wedding – Erika Diaz Photography
Closing Thoughts
Before you officially book a venue, double check a few things:
Can we afford this when we consider our all-in wedding budget?

Will I have to compromise on another vendor to have this venue?

Will I need to decorate or rent furniture or will it all be included, and how does that compare to other venues?

We suggest creating a master pro/con list if you are on the fence. Remember that when it is all said and done, whatever venue you choose will end up being the perfect place for you and your partner. Happy venue shopping!
We hope this was helpful as you consider your venue search!
P.S. If you're in the Eau Claire/Chippewa Valley area, we wrote a blog post of our top favorite venues here! 🙂